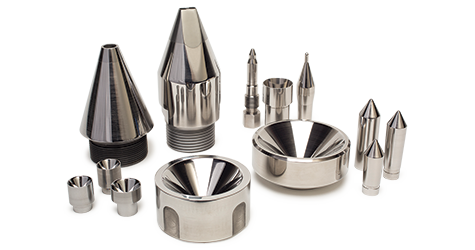 Wire Drawing Extrusion Tips and Dies
Extrude insulation onto your wire, cable or fiber-optic cable with exceptional precision and uniformity using Fort Wayne Wire Die extrusion tips and dies.
Each custom-manufactured tip and die is individually engineered with unique applications expertise, then 100% tested for concentricity verification, to ensure proper wire centering. The end result is an insulated wire with uniform insulation thickness and precise conductor centering that provides the correct electrical characteristics in your finished product.
Product Specifications
Hole Sizes
Single crystal diamond:
.012in to .036in
(0.30mm to 0.90mm)
Polycrystalline diamond:
.012in to .093in
(0.30mm to 2.36mm)
Tungsten carbide:
.020in to .500in
(0.50mm to 12.5mm)
Tool steel:
up to 1.0in
(up to 25mm)
Applications
Precision-insulated wire and cable, including Category 5, 6 and 7 products where consistent electrical properties are required.


Typical Markets
Telephone, telecommunication and electronic cables
Advantages
Guaranteed ID to OD concentricity to .0002in (0.005mm) T.I.R. (total indicator reading).
Individually packaged with quality inspection certificate.
Custom made to your specifications.
Standard styles and sizes available for immediate shipment. Download PDF version of the Extrusion Tips and Dies technical sheet, complete with details on hole sizes, die and tip design styles, die materials and other key ordering information.