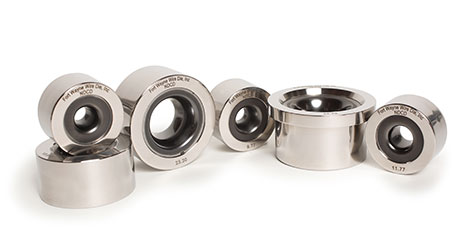 Nano Diamond Coated Dies
Fort Wayne Wire Die's Nano Diamond Coated Dies (Nano DCDs) introduce a completely new advancement in die-surface technology that yields an incredibly smooth wire finish, with minimal generation of fines, in hole sizes as large as an unprecedented 100 millimeters (3.9 inches)—making Nano DCDs an ideal solution for stranding, bunching and compacting applications of conductor cable.
Product Specifications
Hole Sizes
0.031 in to 3.937 in
(0.80 mm to 100 mm)
Applications
Ideal for stranded cable used in electrical transmission. May also be used for large diameter wire drawing and tube drawing. See your FWWD salesperson for details.
Typical Markets
Aluminum, copper and other non-ferrous cable, dry-drawing of steel and stainless steel, welding wire drawing and tube drawing.
Advantages
Superior surface finish minimizes wire deformation forces for optimum cable conductivity and reduced fines and dust
Maintain a constant hole diameter throughout it's life
Eliminate die wear for huge potential savings in raw material cost
Extend die life at least 10x longer than tungsten carbide
Offer the broadest range of sizes for stranding applications— up to 100mm (3.9 inches) Download PDF version of the Nano Diamond Coated Die brochure, complete with details on hole and casing sizes, die material selection, specifications for wire materials and other key ordering information.
Nano DCD Tech Article