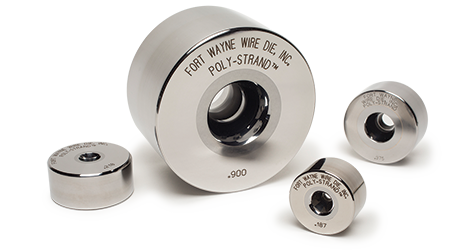 Hole Sizes
Poly-Di® polycrystalline diamond dies (PCD):
up to 1.18in
(up to 30mm)
Poly-Strand™ polycrystalline diamond blank with tungsten carbide cap:
up to 1.30in
(up to 33mm)
Solid tungsten carbide dies:
up to 2.0in
(up to 50mm)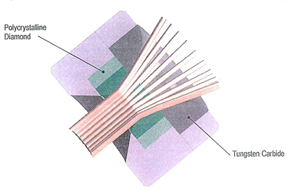 Poly-Strand™ Stranding, Bunching & Compacting Dies
When stranding and compacting conductor wire, FWWD provides the right die materials offering the best combination of economy, wear resistance and wire surface quality to meet your specific needs.
These types of dies can be manufactured from:
Polycrystalline diamond
Yields a good wire surface finish with excellent die life (several orders of magnitude harder than tungsten carbide).
Reduces fines and shavings generated during production due to low coefficient of friction and wear resistance.
Long die life and minimized wire breakage make for longer, uninterrupted production runs truckload after truckload.
Polycrystalline diamond with a tungsten carbide cap (Poly-Strand™ dies)
Cap properly positions the incoming strands of the wire array.
Allows for high-speed cable production at significantly lower running temperatures and reduces energy costs too.
Vastly improves cable surface finish and reduces wire breakage and start-up problems.
Unique design optimizes price—performance benefits.
Tungsten carbide die blank material
Offers an economical solution for short production runs and when wire surface quality requirements are secondary to cost savings.
Possesses excellent corrosive wear resistance.
Nano DCD (Diamond Coated Dies)
Superior surface finish
Die life 10x+ tungsten carbide
Low die pull for improved energy efficiency
Maximum die life for large diameters up to 3.9in (100mm)