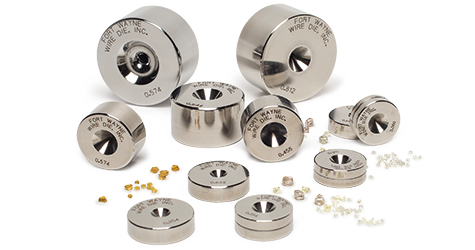 Single Crystal Diamond Dies
For fine wire and ultrafine wire applications demanding a superior wire surface finish, nothing performs better than a single crystal natural or synthetic diamond die from Fort Wayne Wire Die.
The first to use diamond x-ray orientation, Fort Wayne Wire Die is uniquely skilled at properly mounting the diamond inside the die casing to ensure precise profiling, exceptionally accurate hole sizing and maximum wearability that all combine to yield unmatched wire quality.
You get the very best performance for optimum wire reduction uniformity and wire roundness, minimum die pull and virtually flawless wire surface finish.
Product Specifications
Hole Sizes
.0003in to .114in
(0.0075mm to 2.90mm)
Applications
Used in fine and ultrafine wire sizes, or as finish-dies when wire surface quality is critical.
Typical Markets
Magnet wire, medical wire, plated-copper wire, wet-drawn stainless steel wire and wire drawn of precious metals.
Advantages
Best surface finish of any die material available.
Lowest die pull and friction.
Excellent recutability.
Diamond x-ray orientation provides greater consistency, more predictable wear and more pounds of uniform wire per die. Download PDF version of the Single Crystal Diamond Die brochure, complete with details on hole and casing sizes, die material selection, specifications for wire materials and other key ordering information.