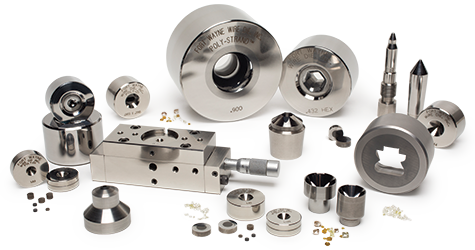 Always a Wire Die Leader
Fort Wayne Wire Die has historically been the birthplace of technology that drives the wire drawing and wire die industries. From the first wire die manufacturing equipment and processes developed in the 1930s, to the ongoing engineering advancements that have marked the industry's evolution ever since, Fort Wayne Wire Die has always stood at the forefront.
Our vision is to be the preferred global supplier for wire drawing dies and precision tooling the for the global wire and cable industry, the one die supplier that can provide the consistent quality, applications expertise, performance value and supply chain efficiency all customers need to compete in a global market. The ISO 9001:2015 certification has allowed us to develop a quality management system that fully supports our vision and goals resulting in customer satisfaction.
To download the current ISO certificate, please click here.
Plant Tour
Scroll down to learn more about the experienced people, standardized production processes and ISO 9001:2015 registered management systems that build quality assurance and consistency into every wire die.

PART 1: Wire Die Materials & Design
Incoming Material Inspections
Where optimum die performance begins. FWWD thoroughly examines every single crystal natural diamond stone—selecting for shape, clarity and freedom from internal defects—and specifies all its synthetic diamonds from suppliers who lead the world in quality.
Die Design
FWWD metallurgists, process development engineers, and mechanical and electrical engineers collaborate to analyze your application parameters—your wire material, drawing speed, hole size tolerances and so forth. Then, using advanced proprietary and CAD software, they develop a die model designed to precisely meet those parameters.
PART 2: Diamond Orientation & Mounting
Diamond Orientation
Technology forged by Fort Wayne Wire Die. FWWD runs its single crystal natural diamonds through two critical preliminary operations: x-ray orientation and flattening. Using x-ray technology, FWWD can identify and select the correct plane for each diamond, maximizing abrasion resistance, die life and performance. Polishing two parallel flats on the diamond then ensures the proper orientation is intact through the manufacturing process.
Mounting
Next, FWWD mounts the diamonds in a unique powdered metal matrix. This adds compressive force, which improves die strength, reduces die breakage and dissipates heat generated during the wire drawing process.

PART 3: Wire Die Manufacturing
Every phase in Fort Wayne Wire Die's manufacturing process is governed by experienced technicians, following innovative ISO 9001:2015 registered procedures.
Drilling
Using electrolytic drilling machines, lasers, wire EDM machines and electrical discharge machining centers, FWWD creates the basic hole size and shape for each die. They then verify this, as well as the bearing length, ovality and reduction angle, using software and optical measurement devices developed by FWWD exclusively for the wire industry.
Shaping, Polishing & Sizing
After drilling, technicians use wire and ultrasonic polishing systems to create and fine tune each die's precise bearing length and reduction angle.
Elongation Testing
When manufacturing a matched die set, FWWD conducts physical testing to verify the elongation rate of the exiting wire at each die in the sequence, and produces a full certification document that accompanies the set in shipping.

PART 4: Wire Die Control
In-Process QC
Quality checkpoints exist throughout manufacturing. During die shaping, polishing and sizing, operators measure each die and instantly check their measurements against the original specifications using a real-time database that links operators throughout the manufacturing area.
Final Inspection
After leaving the production floor, every single wire die undergoes a final visual inspection. Here, lab personnel use a series of sophisticated instruments and a real-time database to ensure the finished product complies with original order specifications.
Packaging and Shipping
Finally, the shipping staff checks the dies. In particular, they examine matched die sets, confirming
they have the correct set and serial numbers and are packaged in the correct sequence
Where is the Wire Die Industry Headed
From diamond die x-ray orientation, to ultrafine wire, to the next paradigm shift in wire die technology—click here.