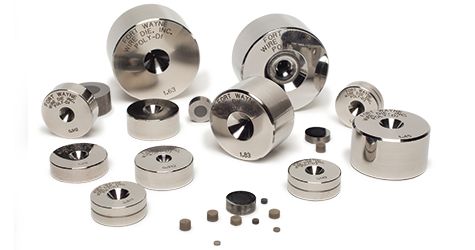 Poly-Di® Polycrystalline Diamond Dies
When die life and wire production efficiency take precedent over wire surface finish, consider a Poly-Di wire die.
Poly-Di wire dies are manufactured with polycrystalline diamonds, a durable synthetic material with a highly polished surface finish that minimizes friction for an exceptional resistance to die wear, cracking and breakage.
You get significantly longer die life, excellent wire roundness and highly predictable die wear with a good wire surface finish.
Product Specifications
Hole Sizes
.0009in to 1.18in
(0.023mm to 30mm)
Applications
Nonferrous wire, especially larger sizes where demanding wear is a problem, but surface finish is less critical.
Typical Markets
Aluminum wire, copper wire, dry-drawn stainless steel wire, tire cord, welding wire, galvanized steel wire and saw wire.
Advantages
Maximum die life provides highest production efficiency with less downtime.
Available in a wide range of grain and blank sizes.
Excellent resistance to die fracture and breakage.
Even, predictable die wear. Download PDF version of the Poly-Di Polycrystalline Diamond Die brochure, complete with details on hole and casing sizes, die material selection, specifications for specific wire materials and other key ordering information.